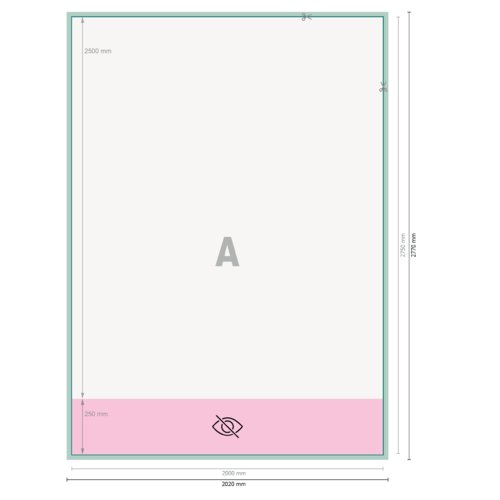 Artwork information XXL Roller Banner, 200 x 250 cm
Data format (incl. 10 mm bleed): 202 x 277 cm
Trimmed size: 200 x 250 cm
Visible area: 200 x 250 cm
Printable area: 200 x 275 cm
Resolution: 150 dpi
Include a surrounding trim of 10 mm, important information should be at least 10 mm from the edge of the final format size
Fonts must be completely imbedded or converted to curves
colour mode: CMYK, FOGRA51 (PSO coated v3)
Maximum colour application of 300 %
We will not check for spelling and/or typographical errors
We will not check for overprint settings
Transparencies created with CorelDRAW must be reduced
Comments will be deleted and not printed
Form field content will be printed
Product details
Four-colour print on the front, reverse blank (4/0)
Different materials available:

500 gsm PVC matt (fire resistance rating "B1 (self-extinguishing)" according to DIN 4102)
260 gsm polyester fabric (heavy-duty and antistatic / fire protection class B1)

Easy to transport thanks to the rigid aluminium cassette and the carrying bag (incl. in delivery)
This product consists of a printed banner, a silver-coloured aluminium roller banner with two large support feet, two "tent poles" and matching rubber caps. The two pluggable aluminium poles are variable in height.
Simple operation – lightning-fast assembly without tools
Weight: approx. 16.0 kg
Only one motif can be uploaded for each print order.